Dear Friends:
During the recent OSF-sponsored cruise in the Mediterranean, we got a sneak preview of the upcoming season. Executive Director Cynthia Rider and Dr. Lue Douthit pulled the curtain back a tad further than has been publicly revealed so far. In advance of seeing everything when the first plays open in February, we're happy to share with you what we learned.
In the Angus Bowmer Theatre: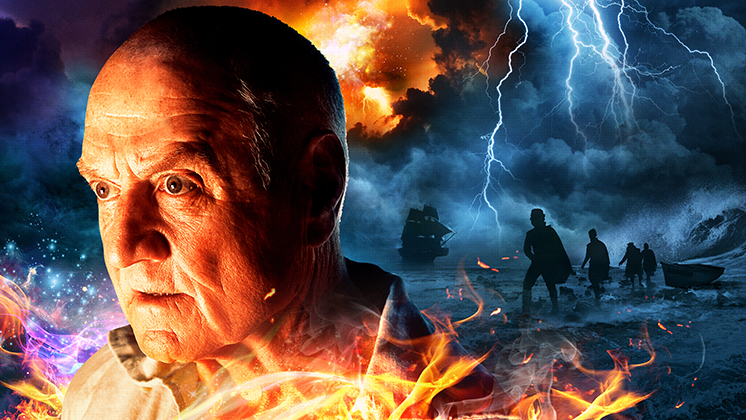 The Tempest, by William Shakespeare, Feb. 14 through Nov. 2 – Denis Arndt plays the lead in the last play Shakespeare wrote with no help from others. This tragi-comedy, often referred to as the first modern play, features spectacle as well as drama as Duke of Milan Prospero tries to restore his life, his family and his title to their rightful places. It's mobile, complex, elusive and disturbing, according to Lue. Directed by Berkeley Rep's artistic director Tony Tacone, last in Ashland with the play about assassinated San Francisco Mayor George Moscone, the play asks more than it gives. Your hosts participated in a reading of the play while at sea. Ask for details.
The Cocoanuts, music and lyrics by Irving Berlin, book by George S. Kauffman with additional text by Morrie Rysking and adapted by OSF's own Mark Bedard, Feb. 16 through Nov. 2. The follow up to 2012's box office hit, Animal Crackers has most of the Crackers' cast returning. The production is based on the 1925 Marx Brothers Broadway show of the same name, but Mark and his co-conspirators "discovered" 25 additional pieces of music written by Berlin for this show, but never used. Incredibly, Box 91 at the Library of Congress yielded all this music, which will be included in the OSF production, either as "new" songs or as transitional music. Mark promises – or threatens – that Cocoanuts will be a more coherent show than Crackers, albeit silly and sillier. You may find yourself sitting next to Berlin family members who've expressed great interest in what OSF is doing.
The Sign in Sidney Brustein's Window by Lorraine Hansberry, Feb. 15 – July 6. Championed by dramaturg Lue Doubit, this absurd/realistic domestic comedy is set in Greenwich Village in 1964 and is the story of what a liberal intellectual decides to believe in and take a stand on, or maybe decides to give up on. There – three sentence segments ending in prepositions – is that a provocative enough discussion for intellectuals to hang on to? The play asks us to consider the nature of commitment as it relates to love, morality and ethics. Alas, this brilliant playwright died at 34, else her canon of work looking at interracial issues might be larger.
A Wrinkle in Time based on the book by Madeleine L'Engle adapted and directed by Tracy Young, April 16 – Nov. 1. This historical science-fiction quest set in the early 60s has been a popular young adult book for decades. The 90-minute play without an intermission will be family friendly, especially in our family – daughter Lucy must have read this book five times.
The Great Society by Robert Schenkkan, July 24 to Nov. 1. This world premier picks up where All the Way (soon opening on Broadway) in the 2012 season left off. It's the story of the Lyndon Johnson administration 1965-69 term with the passage of Great Society domestic programs, underscored by the growing turmoil in Vietnam and on the streets of the U.S. While All the Way plays on Broadway, audiences in Ashland will be getting another challenging view of the most important decade in the lives of many of us.
In the Thomas Theatre (where two plays will have short runs this year):
Comedy of Errors by William Shakespeare, Feb. 20 – Nov. 2. A heart-wrenching family drama set in Harlem in the 1920s with one of the twins having moved North, while the other stays in the South. Music by Duke Ellington will be featured with Rodney Gardiner playing both twins, as Ray Porter did in the popular Las Vegas version several years ago. Shakespeare's shortest play, a quarter of which is in rhyming verse, will look at extreme personalities in outlandish situations. The theatre will be in three-fourths seating.
Water by the Spoonful by Quiara Alegria Hudes, Sept. 3 – Nov. 2. This winner of the 2012 Pulitzer Prize for drama forces us to look at the broad impact of the Iraq war on a broad spectrum of characters and the vicissitudes it engendered in very different people. The second in a trilogy, much of the action takes place in the streets of Philadelphia, inspired by Puerto Rican roots. OSF received the rights to produce the play this season even before it got the Pulitzer, an unexpected triumph.
Family Album by Stew and Heidi Rodewald, July 5 to August 31. This rock musical set in the 1980s is about a mid-life crisis – what you are supposed to do in life, as opposed to what you want to do? Autobiographical, the action begins when a reunion of old friends reveals the impact of their different choices and, subsequently, values. Just as Robert Frost reflects on the road less traveled, so must the members of this "family." Who will react to which choice? This is a world premiere production.
On the Elizabethan Stage:
Richard III by William Shakespeare, June 3 to Oct. 10. The ever popular and respected Dan Donahue returns to Ashland to play Richard III and has probably already memorized his opening lines – this being the only play of Shakespeare's that opens with a soliloquy. This is the bard's longest play and covers 14 years of actual history – 1471-85 – with gusto, exuberance and zest (according to Lue). What more is there to say except to note that the remains of this man, the last of the Plantagenets, were found last year underneath a parking lot in Leicester, which led to a major court battle between York and Leicester over the ultimate resting place of his bones.
Into the Woods with music and lyrics by Stephen Sondheim and book by James Lapine, June 4 – Oct. 11. OSF's musical theatre takes on America's leading late 20th century producer of this America-invented theatrical form. Miriam Laube plays the witch in the fantastical musical growing out of Grimm's fairy tales. This is an irreverent and moving story about how a community responds to uncharted territory. It's another family friendly production, so plan for the grandchildren to have a late summer night out.
Two Gentlemen of Verona by William Shakespeare, June 5 – Oct. 12. OSF is having fun with this play with gender-bending roles by putting on an all-female production. It promises to be quite different from the original 17th Century London show when men played all the roles. Anne Hathaway's resident dog, Cappy, may be auditioning to play Crab the dog, though we may have to change his sex first.